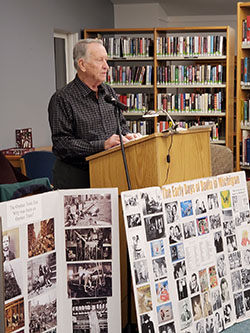 January 21, 2020:
Early Days of Radio in Michigan, presented by Al & Dave Eicher
This lecture will stimulate many wonderful memories of the early days of radio. Al and David Eicher, have for the past thirteen years produced 23 Michigan visual history documentaries. Their efforts in preserving town histories and events in Michigan have led to the creation of a lecture series. They have designed these lectures, including multimedia displays, for Colleges, Historical Societies, Libraries, Church Groups and Museums. Historic objects and documents are also on display. The visual segments originate from an interactive DVD, which is shown on a video projection system or large screen television.
At the Harrisville Library 7 p.m.