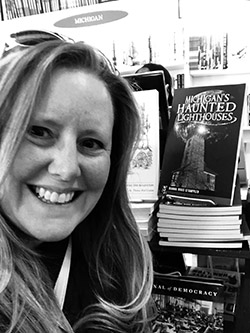 Michigan's Haunted Lighthouses, presented by Dianna Stampfler
What is it about lighthouses that attract ghostly spirits? Maybe it's simply a passion that will not go away. Lighthouse keepers were known to be extremely dedicated to their profession and it seems that many were never able to give it up — even after death. More than 30 lights in Michigan are rumored to be haunted. From the smell of cigar smoke at Seul Choix Point Light to the mysterious housekeeping at White River Light Station and the antics at Waugoshance Shoal, these stories will entertain all ages.
Presenter: Dianna Stampfler has worked in Michigan's tourism industry for more than twenty years. In 2004, she launched Promote Michigan, a public relations consulting company specializing in the hospitality, tourism, agriculture, culinary, natural resources, recreation, history and culture industries around her home state. Dianna has penned countless articles for publications such as Pure Michigan Travel Ideas, Michigan Blue Magazine, Michigan Home & Lifestyle Magazine, Women's Lifestyle, AAA Living, West Michigan Carefree Travel, Lake Michigan Circle Tour & Lighthouse Guide and many others. Michigan's Haunted Lighthouses is her first (but hopefully not her last) book. Born and raised in southwest Michigan – and a graduate of Western Michigan University – Dianna now resides in Walloon Lake.